Safilo says Armani renewal still uncertain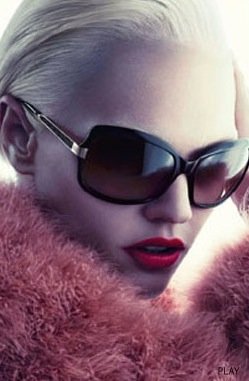 Giorgio Armani Eyewear
MILAN, Sept 29 (Reuters) - Italian eyewear maker Safilo failed to reassure investors on Thursday on the outcome of talks for the renewal of its key licence with the Armani group.
Analysts estimate the contract with the Italian luxury house accounts for around 15 percent of sales at Safilo, Italy's No.2 high-end eyewear maker behind Luxottica .
"Safilo underlines that the negotiation for the renewal of the Armani Group contract is presently ongoing and the outcome is still uncertain," the company said in a statement on Thursday after approving its 2011-2015 industrial plan.
By 1317 GMT, shares in Safilo were down 8 percent at 7.05 euros, sharply underperforming Milan's all-shares index which was 0.53 percent higher.
Safilo reaps around 80 percent of its revenues from the licensed brand business, which includes fashion brands Yves Saint Laurent, Bottega Veneta and Alexander McQueen.
Fashion doyen Giorgio Armani pioneered into sunglasses at the end of the 80s and initially made them under licence with Luxottica, before switching to Safilo.
The Armani group has said it is considering alternatives for its licences but no decision has yet been taken.
Analysts say Safilo, which has reduced debt after a hefty restructuring, should benefit from top-line sales, operating efficiency and sales in emerging markets but warned of risks should the Armani licence not be renewed at the end of 2012.
Safilo, which unlike Luxottica is mainly a wholesaler, said it expected top-line sales to grow 6-7 percent per year by 2015.
Luxury makers are traditionally resilient to downturns, as they cater to the wealthy. Top names such as LVMH , Salvatore Ferragamo and Luxottica have posted record-beating results in the first half of the year, helped by demand from Asian shoppers.
Safilo said it was confident about its long-term growth prospects despite current economic uncertainties and volatile markets.
The company said it expected its earnings before interest, taxes, depreciation, and amortization (EBITDA) margin to reach 11 percent of sales this year, on total net sales of about 1.1 billion euros in 2011.
Safilo is targeting revenues of 1.2-1.25 billion euros in 2013, rising to 1.4-1.45 billion euros in 2015, as it expands in fast-growing markets such as Russia, China and Brazil.
It said targets assumed the renewal of all the licences expiring in the period, while excluding possible new licensing deals or acquisitions of eyewear brands.
Safilo agreed a debt restructuring with banks in 2009 and Dutch investment company Hal Holding, one of its largest clients, rescued the company through a debt and equity deal.
Safilo sad its net debt should remain in line with first-half levels this year, at around 240 million euros.

($1=0.735 Euros) (Reporting by Antonella Ciancio; Editing by Mike Nesbit)
© Thomson Reuters 2013 All rights reserved.