Cotton: towards a second year of rising inventories
The International Cotton Advisory Committee (ICAC) expects another year of growth in the inventory of cotton during the 2012/2013 season, which begins August 1. And this while the current season has already attained record global stockpiles, leading to lower prices.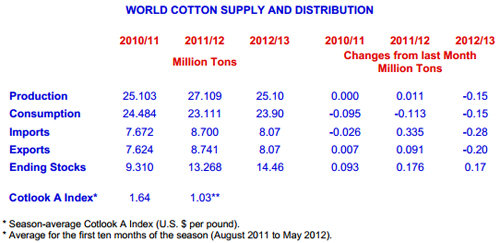 Icac.org
Global inventories grew by 43% to 13.3 million tonnes during the current season. The ICAC is now forecasting a further increase of 9% during the next season, with 14.5 million tonnes. The agency predicted that by July 2013, some 61% of global consumption would come from the stockpiles, a percentage not seen since the 1998/1999 season.
This state of affairs had already been anticipated by market observers, starting with the farmers themselves. Faced with falling prices, the global surface area allocated during the 2012/2013 season for the cultivation of cotton should fall by 7% to 33.6 million hectares. World production would then decline in the same proportion to 25.1 million tonnes. In contrast, world consumption should increase by 3% to 23.9 million tonnes.
The ICAC remains puzzled about what will happen in terms of price developments. "The expected addition to the world's cotton stockpiles will influence the international price of cotton during the 2012/2013 season, and price volatility could be enhanced because of the uncertainty resting on the Chinese national reserve," said the committee. China had indeed contributed to the price spike in 2010 by deciding to keep their own stockpiles.
By

Matthieu

Guinebault
Copyright © 2013 FashionMag.com All rights reserved.