Penney plunges after abrupt departure of top executive
Shares of J.C. Penney Co Inc fell 11 percent on Tuesday after its president abruptly left the department store operator following a botched advertising campaign that was the linchpin of the 110-year old chain's turnaround plans.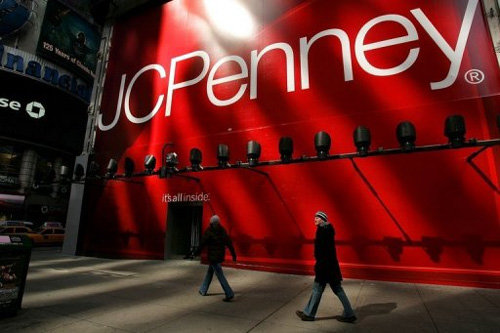 Photo AFP/Getty Images/File, Spencer Platt
The retailer said on Monday that Michael Francis, a key member of the "dream team" it assembled to transform the company's image, m e rchandising and pricing, was leaving just months after he joined from Target Corp.
The attempted transformation, led by CEO Ron Johnson who took over in November, includes a new pricing strategy that eschews the use of coupons and sales events in favor of everyday lower prices on most items.
"The turnaround envisioned in January has not gained traction, and the company has made basic mistakes such as introducing 'branding' marketing before the product (or) stores had changed," Nomura analyst Paul Lejuez said in a client note.
Francis was one of a handful of executives hired away from CEO Johnson's old employers Target and Apple, where Johnson had built a successful retail chain before leaving last year.
"Francis may be taking the blame for the marketing mistakes. Alternatively, maybe Francis is giving up on a turnaround plan he helped create," Lejuez said.
CEO Johnson admitted last month that Penney's ads had not clearly explained to shoppers a shift toward higher prices, central to its turnaround efforts.
The higher prices led to a worse-than-expected 18.9 percent drop in same-store sales last quarter.
Critics said that the company's ads confused shoppers and did not focus enough on product and prices.
Penney's shares were down 10 percent at $21.89 in morning trading on the New York Stock Exchange. They earlier touched $21.57 - their lowest since September 2010.
Johnson's appointment was seen as a coup for Penney when it was announced in June 2011. But after Johnson's appointment became effective in November, the company disappointed investors with weak sales results and scrapped its dividend.
The stock, which soared on the news of Johnson's appointment in June, has fallen nearly 40 percent since then.
© Thomson Reuters 2013 All rights reserved.