Cotton futures surge on USDA supply report
Cotton futures jumped Wednesday after the U.S. Agriculture Department, for the first time in months, cut its projection for global supply.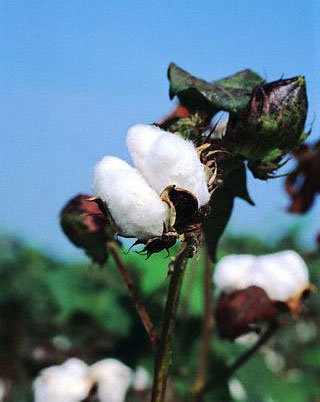 Foto: Corbis
USDA lowered its estimate for world 2012/13 cotton ending stocks to 72.39 million (480-lb) bales, down 2.85 percent from the record 74.51 million bales forecast in its June supply report.
China's 2012/13 ending stocks were projected at 31.8 million bales and account for nearly 44 percent of total world ending stocks.
The cut in world ending stocks caused the benchmark December cotton contract on ICE Futures U.S. to soar 1.73 cents or 2.45 percent to an early session high of 72.45 cents per lb. At 9:15 a.m. EDT (1315 GMT), it was up 1.48 cents at 72.20 cents..
"The cotton numbers are a little on the friendly side after months and months of bearish numbers," said Sharon Johnson, senior cotton analyst at brokerage Knight Futures in Atlanta, Georgia.
"The market has acted well and is making an effort to break out to the upside," added Mike Stevens, an independent cotton analyst in Mandeville, Louisiana.
This USDA report was the last based on projections for the coming 2012/13 marketing year, which officially begins Aug. 1.
Traders said cotton was also given a boost by the strong performance of the grains complex, with corn futures up on cuts in yield projected by the USDA.
The agency reduced its estimate for U.S. cotton plantings in 2012/13 to 12.64 million acres from 13.16 million in its June report. The rate of abandonment by farmers who would give up on their cotton sowings due mainly to adverse weather was forecast at 2.04 million acres from the 2.66 million estimated in the June report.
Cotton harvested acreage in 2012/13 was forecast at 10.4 million acres, up almost 10 percent from 9.46 million in 2011/12, a season when the top cotton growing state of Texas was hit by its worst drought in a century.
© Thomson Reuters 2013 All rights reserved.